No results were found for the filter!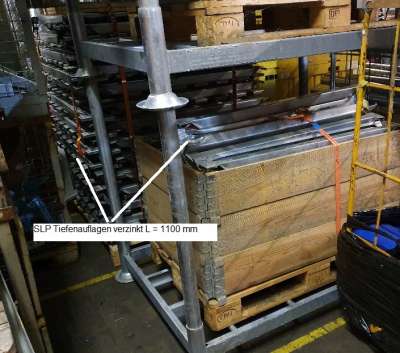 SLP depth supports galvanized, L = 1100mm for supporting beams
RA1787 SLP depth supports / depth bar, galvanized, L = 1.100mm Support of the pallet center runner for transverse storage. 2 pieces required per pallet storage location. Also suitable for storage of skeleton containers. More than 100 pieces in stock - please ask for the required quantity! Price net plus VAT from central warehouse Dr. Sonntag GmbH & Co KG, 97076 Würzburg
See details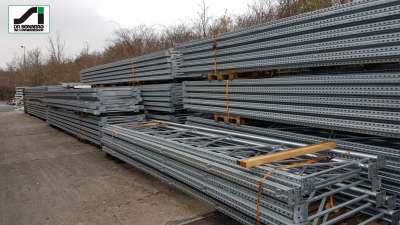 Dexion Pallet rack system 3.420 places Speedlock P90 H
Dexion Speedlock pallet rack P90 H RA1094 Ideal for your pallet storage needs, the Dexion P90H galvanized pallet rack provides a highly efficient, flexible solution for any need. Product information: - P90 H type upright frame, bolted infill. - Height x depth 8,450 x 1,100 mm. - Post width 90 mm. Beam type SLI 2.700 mm incl. safety pins - Shelf load 1,200 kg with evenly...
See details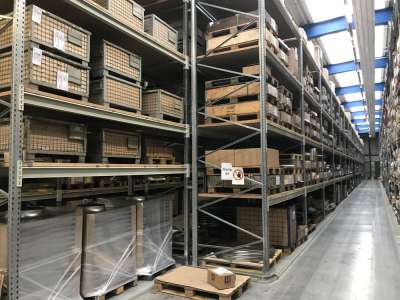 Pallet racking system Galler OMEGA used 16600 x 5400 x 1350
RA1784 Pallet rack system Galler OMEGA used 16600 x 5400 x 1350 mm Installation in a hall Shelf height: 5.400 mm shelf depth: 1.350 mm clear field width: 3.200 mm stored goods: pallets with stored goods Deep storage: 1,350 mm Storage arrangement: 1. stored goods on the floor 2. to 5 stored goods on pairs of tie bars, Shelf load on pair of spars at daylight Field width of...
See details